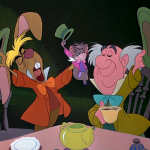 It is that time of year again where I wish everyone out there, a Very Merry Unbirthday!
Another year down with some doors closing behind me, and others opening in front of me. Again more opportunities taken, passed, or missed that carve the path. It is the journey that gets us there that makes all the difference.
It has been quite the busy year, and lack of posts. Honestly, not sure anyone is really surprised.
I started out the year revisiting a little piece of my past, present, and what I believe will be a major ongoing major of my future. As with just about anything else I do, this will not be without its challenges.
For the better part of the first half of the year, there were regular trips back to see my family as my dad continued his fight with Non-Hodgkin Diffuse Large B-Cell Lymphoma (DLBCL). He was clear of any signs after his batch of treatments, for a short period of time, and was just being treated for the ulcer in his stomach where the tumor used to be. Later in the year they found more signs and resumed treatments.
Mid-way through the year, I found myself trying to buy property remotely while I was in London for work. Fortunately (and unfortunately) the process is long and drawn out, continuing for a period of time once I was able to attend to it from within three time zones, vs as much as eight time zones (depending on where the person I had to deal with worked). Now, I own a nice little property that houses my life and gives me the tinkering & project outlet that I don't get in rental properties… even if I am only there part time.
Spent Halloween in Milwaukee; although, I was not as involved with the whole tradition of costume making as I used to be in years prior.
As far as major work projects go, I finally got to start implementing a major wireless project. That seemed to never get out of the hands of management to approve the wireless solution. Worst of all, as it usually goes in this industry, it was all related to blind brand loyalty. The preferred brand, by upper management, performed poorly in the Proof of Concept (PoC) and had to be hand-held the whole way to make sure they had no excuses why they weren't successful. Not only did they have more lead up time by being the last one to execute on the PoC, they had all of the lessons learned from the prior PoCs, they were given extra help to help fix their issues, and had more time deployed in the PoC. Needless to say, I was aggravated with all of the extra love for that vendor and relieved when I was able to execute on deploying the better solution.
As the year wrapped up, I ended up with two sites getting dropped from the deployment queue and two others moved to the following year just because of the timing of events and holidays. During the deployment, I was able to visit Vancouver again. I really like going to Vancouver. It is like San Franciso, but with nicer people. The project also allowed me to spend more time visiting with friends and family between deployments.
It was an election year, and let's just say that I neither liked my choices nor the outcome of the election. The next four years are going to be worrisome, even for those who voted for the victor. They don't really understand what they signed up for.
Spent Thanksgiving in Texas with family. My little nephew is getting bigger every time I see him and is still a cute little roving riot.
That brings us up to today. Today, I am sitting on the patio of an ocean side property on the island of Maui, Hawaii. No better place to be, or people to be with, that I can think of. To say today turned out to be the best day, of all other days this year, probably wouldn't cover it… but that is what I am going to go with.
Come the new year, travel calendar is not going to be as busy as I would like it. However, I am looking forward to stops in Toronto, Portland, Taipei, Cancun, potentially Auckland and Berlin.
Here is to another year of travel, photography, experiences, great people to share them with, and love of living life the best way I know how (including, hopefully, more frequent posts). And now onto continuing new adventures…