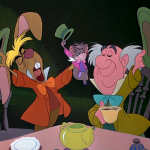 It is that time of year again where I wish everyone out there, a Very Merry Unbirthday!
Another year down with some doors closing behind me, and others opening in front of me. Again more opportunities taken, passed, or missed that carve the path. It is the journey that gets us there that makes all the difference.
It has been quite the busy year, and lack of posts. Honestly, not sure anyone is really surprised.
I started out the year revisiting a little piece of my past, present, and what I believe will be a major ongoing major of my future. As with just about anything else I do, this will not be without its challenges.